All Sports | Softball | Baseball | Hockey | Cheer | Football | Soccer | Destination Imagination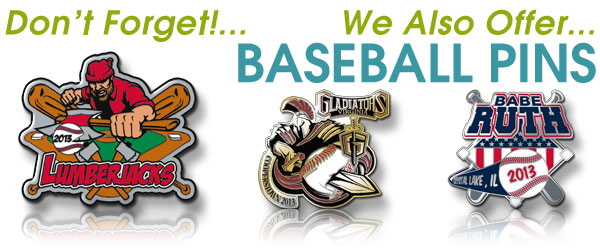 Softball Trading Pins
The new season is here, and it's the time of year again! It's time to order your trading pins. Trading pins are now one of the most important items to have at your tournaments as every team wants to trade them and we're here to help make sure you have one of the most desired trading pins at your tournaments. Here at Softball-Pins.com, we specialize in the distribution of custom made softball trading pins, offering only the highest quality of materials and production techniques. We make the ordering process so easy, that anyone can do it! Simply submit a free quote, or give us a call and we handle the rest. We always provide free artwork and we will design a pin that every team will want to trade for. Our graphic art team consists of some of the oldest and most knowledgeable trading pin designers from around the world and is guaranteed to deliver a design that your team (and every other team) will love. I challenge you to give us a call, and you'll know from the moment you hear, "thank you for calling Softball-Pins, how can I help you", that we are the professionals of the industry.

Trading Pins For All Events
Softball-Pins.com doesn't just produce trading pins for softball teams, and tournaments. We can actually provide low cost, high quality trading pins for any event.
Softball Trading Pins
Baseball Trading Pins
Hockey Trading Pins
Soccer Trading Pins
Football Trading Pins
Basketball Trading Pins
Destination Imagination™ Trading Pins
Scholastic Trading Pins
And any other event....